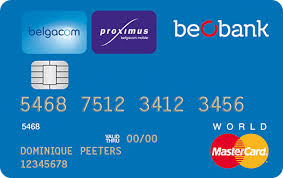 De Belgacom Mastercard is een kredietkaart die uitgebracht is door Beobank en die naast de klassieke voordelen van een kredietkaart nog enkele extra mogelijkheden en kortingen met zich meebrengt.
Waarom Belgacom?
De naam van de kredietkaart doet het al vermoeden. Deze Mastercard geeft je recht op kortingen wanneer je een aankoop doet in een Belgacom shop of online via Belgacom. En dat is niet alles, een aankoop bij Proximus brengt dezelfde voordelen met zich mee. In praktijk gaat het om een korting van maar liefst 5% op iedere aankoop. Wie veel shopt  zal hier snel een mooie besparing mee verkrijgen.
Kortingen, kortingen, kortingen …
Maar het leukste aan de Belgacom Mastercard is dat ze niet enkel korting met zich meebrengt bij Belgacom. Waar of wat je ook koopt, als je met je deze Mastercard betaalt, krijg je in de eerste drie maanden 2% korting op je aankopen en daarna 1%.  Alsof er eeuwigdurende solden zijn. Wetende dat de kaart wereldwijd aanvaard wordt in ruim 22 miljoen zaken, zijn dat heel wat euro's die uitgespaard kunnen worden. Wil je liever cash afhalen, dan kan je terecht in één van vele bankautomaten.

Betalen op eigen tempo
Bovendien is de deze kaart geen gewone kredietkaart, maar een kredietlijn. Dit wil zeggen dat je het opgenomen geld op eigen tempo gaat terugbetalen. Vanzelfsprekend is er wel een minimumbedrag dat maandelijks betaald moet worden, maar dit is slechts 5% van de som die in totaal werd opgenomen. En ieder bedrag dat je terug op de kaart zet, is ook weer beschikbaar voor nieuwe aankopen.
Snel aanvragen
Een Belgacom Mastercard aanvragen doe je online of per telefoon. Het volstaat om een aanvraagformulier in te vullen en de gevraagde documenten door te sturen naar Beobank. Zodra je dossier aanvaard is, krijg je de kredietkaart thuis opgestuurd.